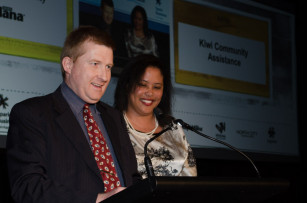 Click on link to watch video A Short Film about KCA
After watching the TV documentary Inside Child Poverty New Zealand at the end of November 2011, a Tawa couple Tracy and Phil decided they were in a position to try and make a difference. They started contacting agencies in the local community to find out what services were most needed.
They contacted friends, families and used Facebook social networking to solicit donations of Christmas presents, food, and household goods for distribution through the agencies.
Overwhelmed by the response, they decided to formalise it and set up Kiwi Community Assistance. In July 2012, Kiwi Community Assistance became a registered charity (No.CC47974).
KCA has become a 'one stop distribution hub to local charities, foodbanks and community groups. This is done by bringing the community together - supermarkets, local farmers markets, manufacturing companies, hotels, companies growing through rebranding and locals in the community donating food, clothing and other goods.
Our volunteers are college students, retirees, stay at home mums and anyone who likes waste minimisation. We ask that our volunteers assist us on a weekly or monthly. We also welcome corporate companies to send us teams from 1 person to 6 people to assist for 1/2 or a full day.
We have sewing groups and craft groups upcycling donated linen, wool and fabrics by turning them into usable items such as reusable bags, making book bags for school children, knitting winter goods for the less fortunate in the community.
With 2 paid employees and 46 volunteers who assist us in a variety of roles within the organization 3 hours each week.
KCA has seen a significant increase in the requests for food assistance from our partner agencies as more of their clients are experiencing the cost of living crisis. Unfortunately we are not able to process any new requests from community groups or agencies asking for this assistance.